Interested In Music?
Do you want to learn how to write songs, learn the guitar, or perhaps both?  I just might be able to help you reach that goal.  I'm conveniently located right on the Livonia border of Westland, between Farmington and Merriman.  
I now provide an introductory lesson free of charge, during which we will discuss your goals, musical interests etc, and see if we're a good match.  If not, I'd rather see you placed with someone that can teach what you want to learn, rather than take your money and force you into something you aren't.  From there, I charge $25 for a half hour lesson, which is usually scheduled weekly.  I give discounts for referrals when they sign up, as well.  If you have any questions, or wish to sign up for 1-on-1 instruction, please feel write me at lessons@stuartbenbowmusic.com or send me a message through my Facebook page
What Do You Want To Learn?
Whether you're hoping to hit the big stage, or the local open mic scene, write original songs, or pass the time strumming our favorite songs for your own pleasure, I can probably set you on the path of your own personal musical journey.  Each skillset is unique, but overlaps, building on one another, and your goals and instincts will help us determine if I'm a good fit for you as an instructor.
Guitar Instruction:
Over the years, I've developed skills that favor the singer-songwriter soloist.  This tends to favor rhythm, fingerstyle, and percussive guiwtar as a foundation with small fills and accents between phrases, and occasional soloing over live looping.  The tradeoff is that while I can dance the tune of lead guitar work, and coach people through developing this path it isn't my personal specialty.  I can help beginners  through intermediate students in most acoustic styles, and in my own area of expertise, can teach even more.
Mandolin Instruction:
The mandolin is seeing a resurgence in popularity.  Small and portable, lightweight, and distinctive, you can bring it with you, and turn heads wherever you go.  Suitable for lead work and rhythm, as well as a combination of the two, the mandolin is at home in many styles of music, from country, folk and bluegrass to rock and roll, Celtic fiddle tunes and so much more.  If you would like to learn how to play the mandolin, I'd be happy to help you on your journey.
Songwriting Instruction: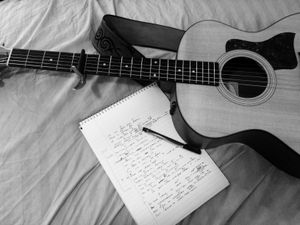 When I say songwriting, I'm referring to lyrics that tell a story, arranged in one of the many song forms, sung to a melody, and accompanied by one or more instruments.  If melody and lyric driven songwriting is something you would like to learn, I'm always happy to help. 
Training and Experience:
In addition to a fully involved music program in high school, and the nearly two decades of experience that followed, I've been periodically upgrading my skills with local and online classes, and local workshops.  Courses have included guitar, songwriting, introduction to music production, introduction to digital sound design, music mixing, and more.  I have helped students who were just getting started, those who, in their niche, were far superior to me, but wanted to learn something new, and those who fell somewhere in between.  
What I'm Not
While I have an electric guitar, it is not my area of focus.  For beginning students, electric vs acoustic is a matter of preference.  More advanced students wantaing to focus on the electric guitar may find me a poor fit, however, as some techniques do not translate between the two guitar types.
I can teach songwriting, song form, arranging, lyrics, rhyme scheme, melody, rhythm and more.  This is pretty universal, regardless of genre, but it makes the assumption that you are interested in learning to craft lyrics, melody, rhythms and song structure, rather than beats.  Crafting instrumental beats, operating turn tables, etc, as used in EDM and similar genres is an art all its own.  I have little experience in that particular craft.  I do have friends that are quite skilled in that area, that may open to a referrals.